Out in the field! Unleashing George and Isabel as Trainee Financial Planners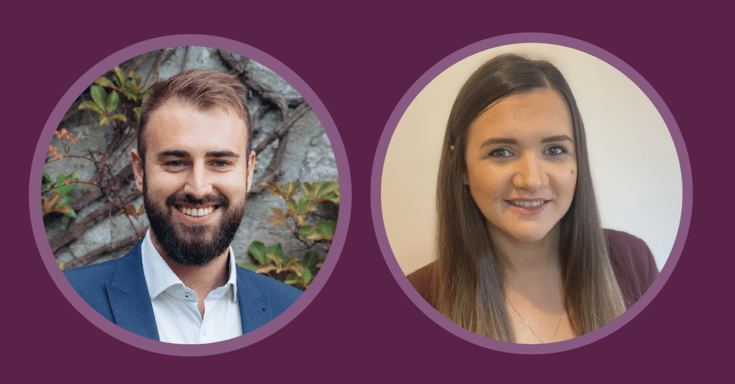 At Goodmans, we're fully invested in helping our people thrive and evolve within the business. So, after bringing Holly and Laura onto our board in the new year, we're now pleased to see George Gilham and Isabel Pook progress from Paraplanners to their new roles as Trainee Financial Planners. We take a look at what this means in practice.
What's a Paraplanner, anyway?
Often summed up as report writers, Paraplanners are there to support Financial Planners, freeing up their time by taking care of the technical and admin side of things. A big part of this is preparing the suitability reports for clients after a review – researching and collecting information and explaining the Financial Planner's recommendations in more detail.

Many do their work behind the scenes, which suits a lot of paraplanning professionals just fine. But there's only so much you can glean from paperwork, so we find it's often useful to involve our Paraplanners in client meetings. Being present helps them fully understand each client's needs and goals so they can better support our Financial Planners in getting them there.
While it's not the right path for every Paraplanner, for some – like George and Isabel – the end goal is to move from behind the desk into a Financial Planner role themselves. Over the last few months, both George and Isabel have been regularly joining our client meetings to test the water and learn more about the client-facing side of what we do.
Having reinforced their technical knowledge out there and excelling at the people aspect of the work – already building great relationships with clients – they officially started their training in February. Out in the field they go!
The path to Financial Planner
Becoming a Financial Planner is about more than passing the right exams and gaining industry qualifications. After all, it's a job that can transform lives, potentially raising a client's quality of life from ok to outstanding. With that comes a lot of responsibility. So a natural ability to connect and empathise with others is crucial, as are great communication skills, strategic thinking, integrity and a positive mindset. Most of all, you need to be deserving of a client's trust.

That said, you still need to pass those exams to get there! Gaining the full suite of qualifications takes hundreds of hours of study – at least 370 hours at Diploma level, 600 at Advanced level – plus complex written assignments and formal exams. That's all on top of the day job. Even with the right character traits to become a great Financial Planner, achieving the required blend of technical expertise, qualifications and practical experience takes time.
As Trainees go, George and Isabel are off to a great start, having already ticked off several exams and with good technical understanding from their time as Paraplanners. Now working closely with our experienced Financial Planners, including our original Directors, Andrew and Finbarr, they're in good hands!
Real rising stars
Joining Goodmans just 18 months and 9 months ago respectively, George and Isabel have wasted no time in making their mark and earning their new roles. Their fast progress has enabled us to start building the next generation of advisers to further future-proof the business and do right by our clients.
We believe the best training you can get is understanding the industry from the ground up, and George and Isabel's journey so far has given them solid foundations. Not only does this approach help to develop top-tier financial professionals, it's what builds quality, long-term relationships – and that all-important trust – within our team and client community.
We can't wait to see how far it will take them – and Goodmans – in future!