Portfolio update: One year on from the COVID-19 crash
One year on, eh? If there's anything we've learned from the past 12 months, it's that life – and the stock market – is unpredictable, yet highly resilient.

The COVID-19 crash was certainly one of the more memorable market downturns that we have seen, mainly because we are all living through the very real economic realities. The stock market, on the other hand, got over the initial panic and has bounced back, with a level of enthusiasm that could seem misplaced.

How our portfolios have fared
You might be wondering what all of this means for you, so let's dig into it.

Looking at the table below, you can see that the bounceback on the Standard Goodmans 100 portfolio is close to 60% – double the initial decline. The Sustainable is trailing slightly, but then it didn't fall as far in the first place.

For 2020 as a whole the crash is all but invisible, with the annual returns for the Standard and Sustainable portfolios being 5.1% and 10.1% respectively.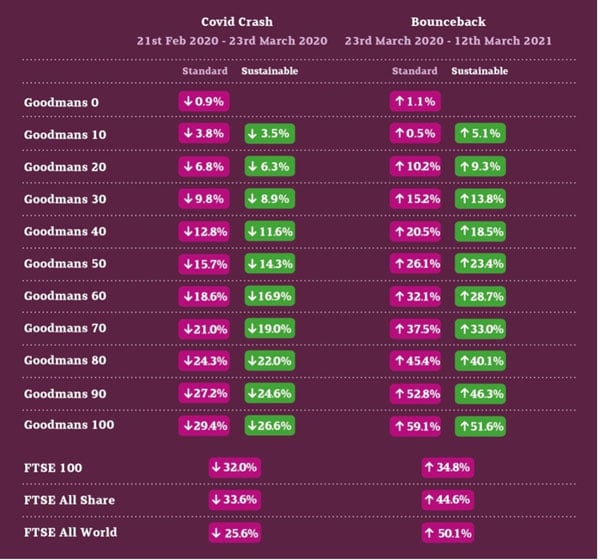 So what does it all mean for you?
The first and probably most important point is that volatility like this is normal, although usually it is less memorable. As an investor, being stoical about the potential for volatility is the work that you have to do to collect the returns. There is no free lunch!

Secondly, having a diversified portfolio of shares in the world's large companies is perhaps the best way to ride through any crisis. As long as we all need to buy stuff, those companies will be there. They are real assets and won't disappear. If a few go pop, the other companies will benefit and your portfolio will keep marching on. It's watertight.

And finally: the third point is that each and every client specifically has defensive assets for this exact purpose: to deal with any short- to medium-term needs for cash and capital. The structure in the portfolios is there to give you patience and to set you up to win in the long term.

What does it mean for the future?
As to the future, we can only speculate. Short-term, our sense is that the economic news will get better and better as we come out of lockdown. To help this along, governments worldwide are pumping out stimulus in various ways. And, at some point, the savings made by individuals during lockdown will be spent. The economy will thrive again.

The stock market has to some extent already priced this in, hence the big bounceback. But, there is every reason to believe that we have some wind in the sails and should have a good year in the markets.