The Italian job: walking the Dolomites with our clients
The second Goodmans community adventure saw us drive a convoy of Teslas from the South West to the Italian Alps and hike over 65km with our clients. Here's why we did it and how it went.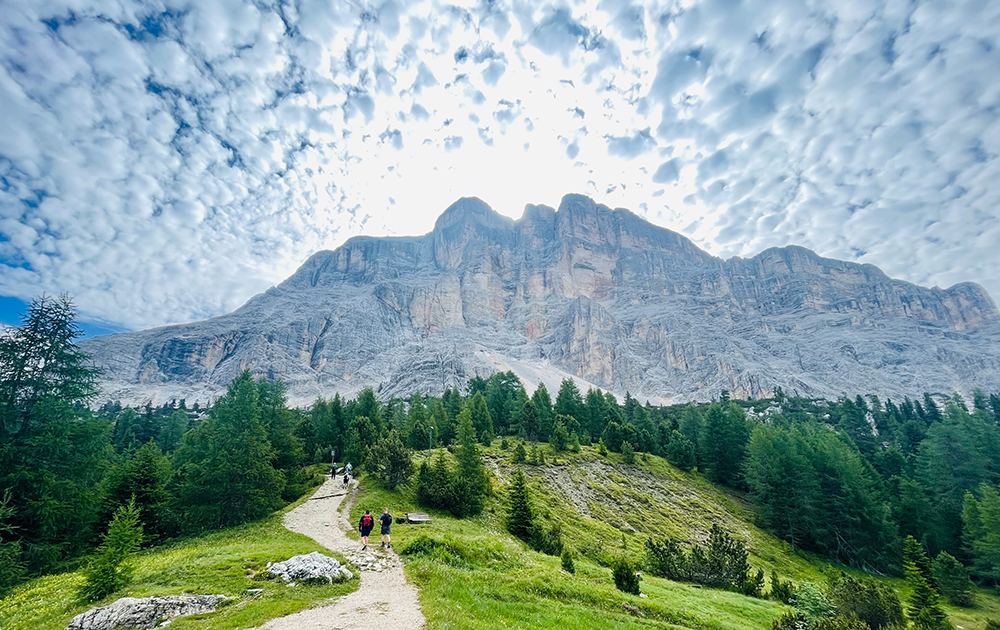 At Goodmans we specialise in retirement planning, but our clients generally aren't the pipe-and-slippers-type retirees that might come to mind. Many are adventurous Gen Xers (born between 1960 and 1982), who've worked hard all their lives and want to make the most of every moment. It's our job to unlock the lifestyle they deserve – and ideally an early retirement to maximise the time they have to enjoy it – through life-centred financial planning.

We love adventure just as much as they do, which is why we invited our client community to join us on a bucket-list-worthy trip last year to trek the majestic landscapes of Iceland. This became our first Goodmans adventure, which you can read about here. It was such an exhilarating, challenging and uplifting experience that we just had to do it again. This time we set our sights on Italy's Alps.
Hatching a plan
As before, we roped in Karen Thornton from The Travel Counsellors to help us design a bespoke trip combining a challenging trek with jaw-dropping scenery. There was just one snag… getting to the Dolomite Mountains isn't straightforward, usually involving a couple of days and a heavy reliance on planes, trains and public buses. So we came up with an alternative travel plan – we'd make good use of our fleet of Teslas to drive there in convoy.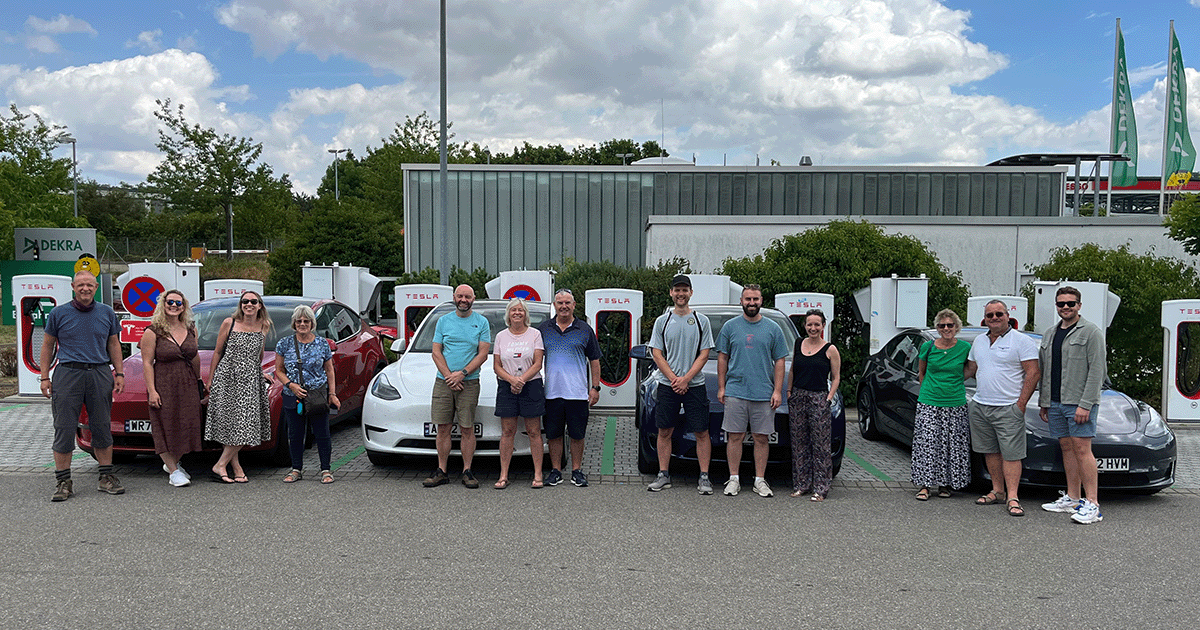 As well as being more sustainable, driving electric vehicles across Europe would add an extra layer to our adventure and give us the flexibility to reshape our journey as we went. So in July 2023, a team of plucky Goodmans clients and staff set off for an adventure within an adventure.
From Devon to the Dolomites
Readying four of the company Teslas, we mapped our route along Europe's supercharging network and assigned two drivers per car to get our 13-strong team to northern Italy. It just so happened that the cars had a patriotic palette of red, white and blue... plus silver for added glamour as we set off from Exeter in a convoy. The Italian Job, anyone?!

Through a WhatsApp group and setting each car's live location, we were able to track, share info, and chat with each other on the road. Despite long days, our regular charging, food and comfort stops broke up the drive, and the varying scenery offered continual interest. With quieter roads and (dare we say it?) generally better-behaved drivers in France, Germany and Austria, the most stressful part of the journey turned out to be the M25!
A spontaneous detour
One major advantage of getting there under our own steam (well, electricity), was the freedom to be flexible with our journey. On day two, we decided to celebrate our client Christine's 60th birthday in style with a detour to an inviting thermal lake near Germany's border with Austria. While certainly picturesque, it didn't feel quite so thermal for those who took a dip! After a long pasta lunch, a landslide diversion, and a dash through a dramatic thunderstorm on Italy's steep mountain roads in the pitch black, we reached our hotel late that evening. We were more than ready to park up and continue our adventure on foot in the morning. And we were very pleasantly surprised by the astonishing view we woke up to.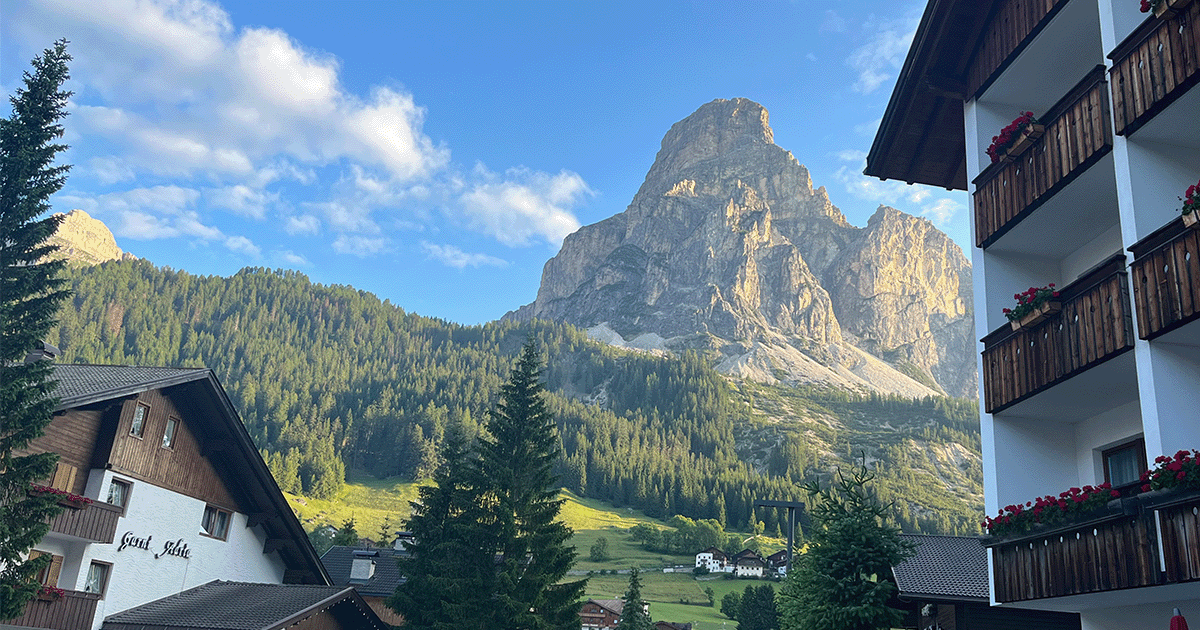 From one adventure to the next
In our two-day journey over 1,100 miles, we'd taken in the dusty yellows of France's flat fields, the lush greens of Bavarian forests, and the increasingly imposing mountains of the Alps as we headed towards Italy. We'd experienced some hilarious toll fails, seen an incredibly rare Porsche 64 in a French car park, witnessed a large and red 'Buck supermoon', and tested the power of the Teslas on Germany's autobahns. But most importantly, we enjoyed getting to know each other better on the way. Next up: our hiking adventure.
Walking the dramatic Dolomites
Nestled close to the border with Germany and Austria, the Dolomite Mountains hold a commanding position at the northern edge of Italy. Using our hotel in the picturesque town of Corvara as a base, and with the help of local chairlifts and transfers, we were set to explore the surrounding mountains over four one-day hikes.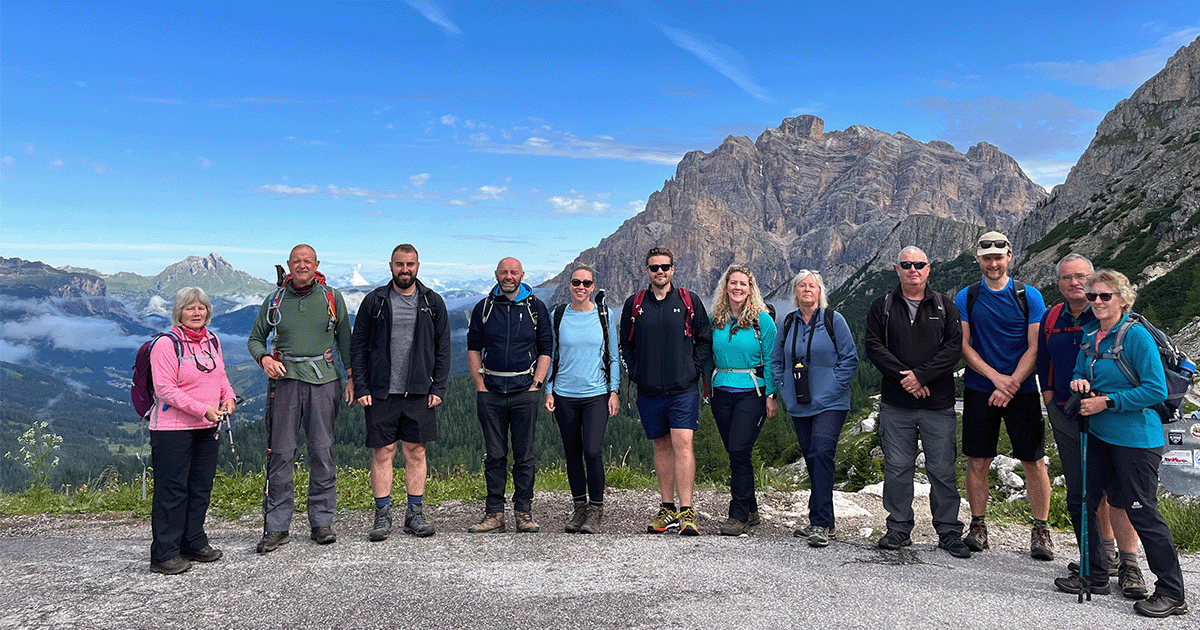 What we discovered were diverse landscapes of jagged, pale peaks, expanses of meadows sprinkled with wildflowers, Alpine lakes, rolling velvet hills and swathes of fir forests. The Ladin communities that have lived and worked among these mountains for centuries revealed their presence in the ancient farming huts, remote chapels and ornate shrines we passed. Picturesque hamlets and villages of wooden chalets adorned with colourful flowers were peppered across the valleys. We also enjoyed the warm hospitality of the Ladin people, whose culture, language and (delicious!) food offer a unique fusion of Germanic, Tyrolean and Latin influences.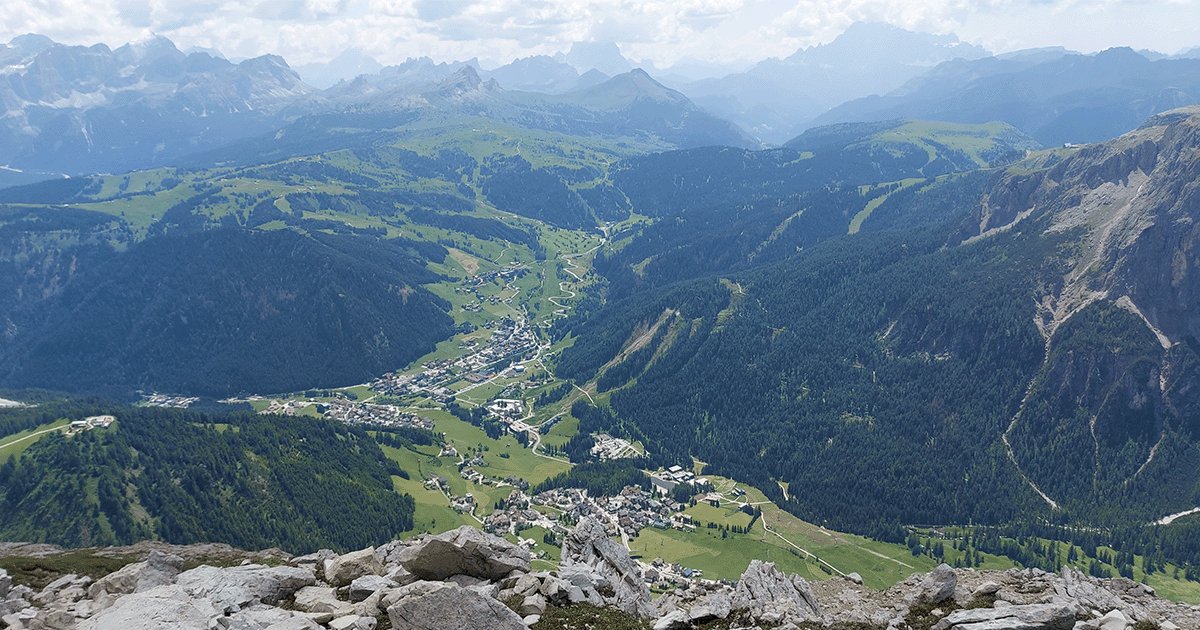 Each day brought breathtaking panoramas of the local mountain ranges and as far afield as the distant Alps of Austria. There were challenging ascents and tricky descents, as we clambered across steep rocky paths, through woodland trails and down ski runs buffered with netting each side to catch runaway skiers. On day one we walked down the equivalent of over two-and-a-half Eiffel Towers!

As with our drive there, we had the freedom to shape our route as we saw fit, including an impromptu diversion on the third hike that took us to our highest point at over 2,700m up and some of the most spectacular 360-degree scenery of the trip. On our final day's walk, we made good use of the chairlifts and cable cars for another panoramic start, with epic cloud formations, moody mountains and glorious sunshine amplifying the stunning views to provide an awe-inspiring end to our walking adventure.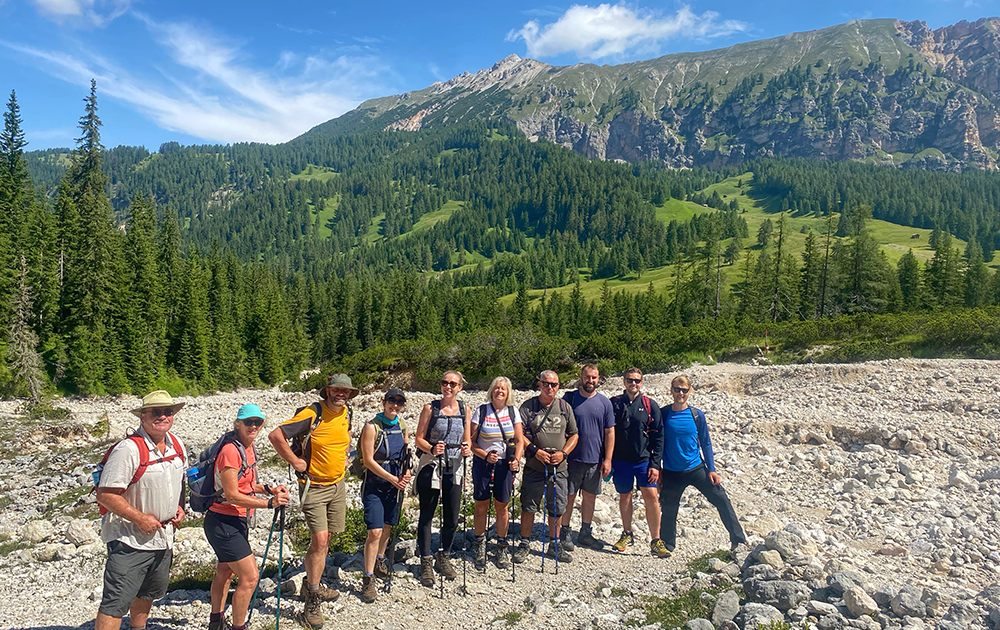 La dolce vita
The Dolomites had delivered in every way we'd have wished for – magnificent landscapes, challenging trails, fantastic food and wonderful hospitality. All up, we'd driven over 2,100 miles across five countries and walked over 40 miles of diverse terrain, enjoying a week connecting and breaking bread with interesting, positive people with a shared sense of community. Some of us had only met each other on day one, but by day seven, we were a genuine team. As our Managing Director and Goodmans adventure mastermind, Andrew Moore, summed it up: "Fun times with good company in a great place". Isn't that what life should be about?
We can't wait for the next adventure!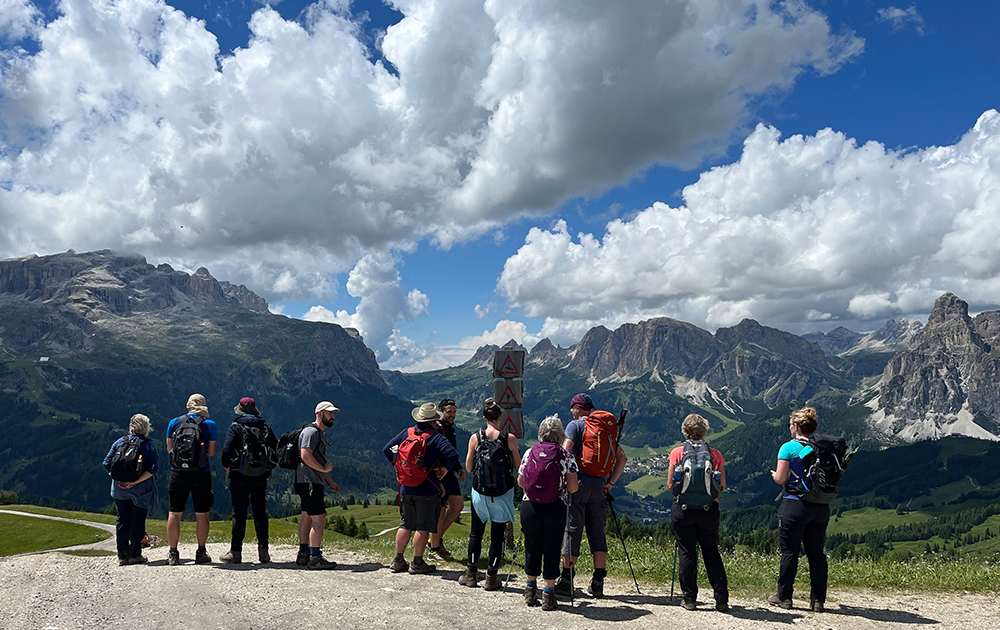 Goodmans clients can read more about our Dolomites adventure in the autumn 2023 issue of our client magazine, Unleashed.